Ocean Park Ultra - (Insulated Wall System)
Heavy gauge thickness for exceptional impact resistance.
Beautiful appearance of low-gloss rough cedar wood-grain.
Double-thick nail hem provides extra rigidity and windload resistance of up to 213 mph.
Unique Linelock self-aligning locking system for quick, easy installation and smoother, straighter walls.
Double-sized insulated panels means up to 45% less noise and significantly reduced air infiltration for a quieter, more energy efficient home.
Larger panel and profile adds rigidity and dramatic shadow lines for a look that stands apart.
Duratron UV technology for superior weatherability and color retention.
Ocean Park ULTRA sidings premium color is consistent all the way through.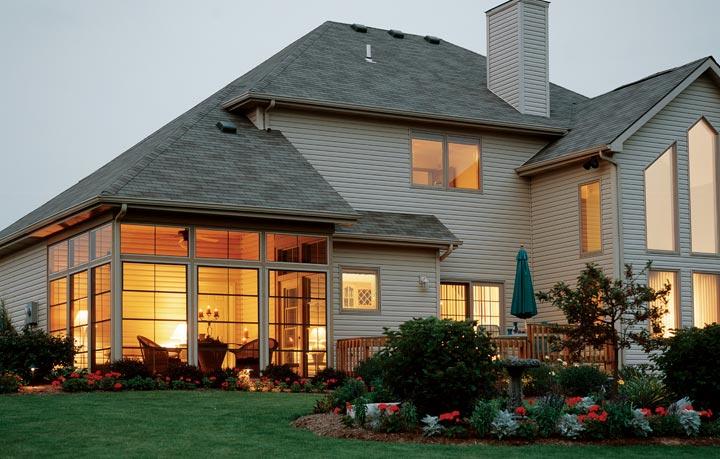 Unparalleled Comfort and Strength
Unparalleled Comfort and Strength is when the the thickest panel on the market is joined with precisely contoured insulation to produce the Ocean Park ULTRA Insulated Wall System. Ocean Park ULTRA panels are already 43% thicker than conventional panels and deliver long lasting performance. Matched with perfectly profiled backer board, your home will be covered with a beautiful, sturdy wall system that will add comfort and energy savings to your home.
The low gloss finish of Ocean Park ULTRAs exclusive Duratron Vinyl Formula, realistic wood-grain texture, deep shadow lines and infused-color throughout the panel give the closest appearance and feel of natural wood.
All this and a limitless choice of designer colors, accent trims, soffits and accessories that match the strength, natural look and maintenance-free durability of Ocean Park ULTRA.
Ocean Park Colors