Vinyl Skirting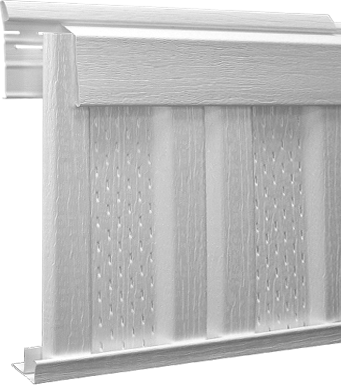 A clean and professional look for porch enclosures, foundation surrounds and skirting for manufactured housing. Solid panels can be interspersed with vented panels to provide necessary air exchange beneath the home. Sanitary and easy to clean, insect and vermin resistant and easy to install.
Vinyl Soffit
The Kaycan Vinyl Skirting system is the perfect solution to provide a clean and professional look for porches and enclosures and it adds that finishing touch to foundation surrounds and manufactured housing.
Ideal for the do-it-yourselfer, Kaycans Vinyl Skirting System comes in easy-to-assemble components, engineered to fit together precisely, for a perfect installation every time. Easy-care vinyl keeps looking as new as the day it was installed with just an occasional spray from a garden hose.
The system structure has built-in flexibility to accommodate for airflow that may be required beneath the home. Simply intersperse solid panels with vented panels and the necessary air exchange is easily achieved.
---
---
---
---